BIDDING GUIDE
When searching for auctions you'd like to bid on on the auction site, please keep in mind that you can FILTER by fanwork type using categories and you can SEARCH by auction ID or creator name only. To search auctions on Tumblr, check our TAG LIST.
Read below for instructions on how to bid!
You'll be asked to provide the following information every time you bid:
Your name/username
Email

(make sure it's one you check often, and type your email very carefully as it remembers you; if you've entered it incorrectly, you'll have to clear your browsing data to enter it again) – this is the email address that your bid confirmation and outbid notification emails will be sent to. This will

NOT

be displayed publicly; only mods will be able to see your email address.

Bid amount

(all bid amounts are in U.S. dollars) – the next available minimum bid amount will be shown in parentheses under the bid box and will change based on the increment the creator selected, but you're welcome to bid more than the next minimum increment.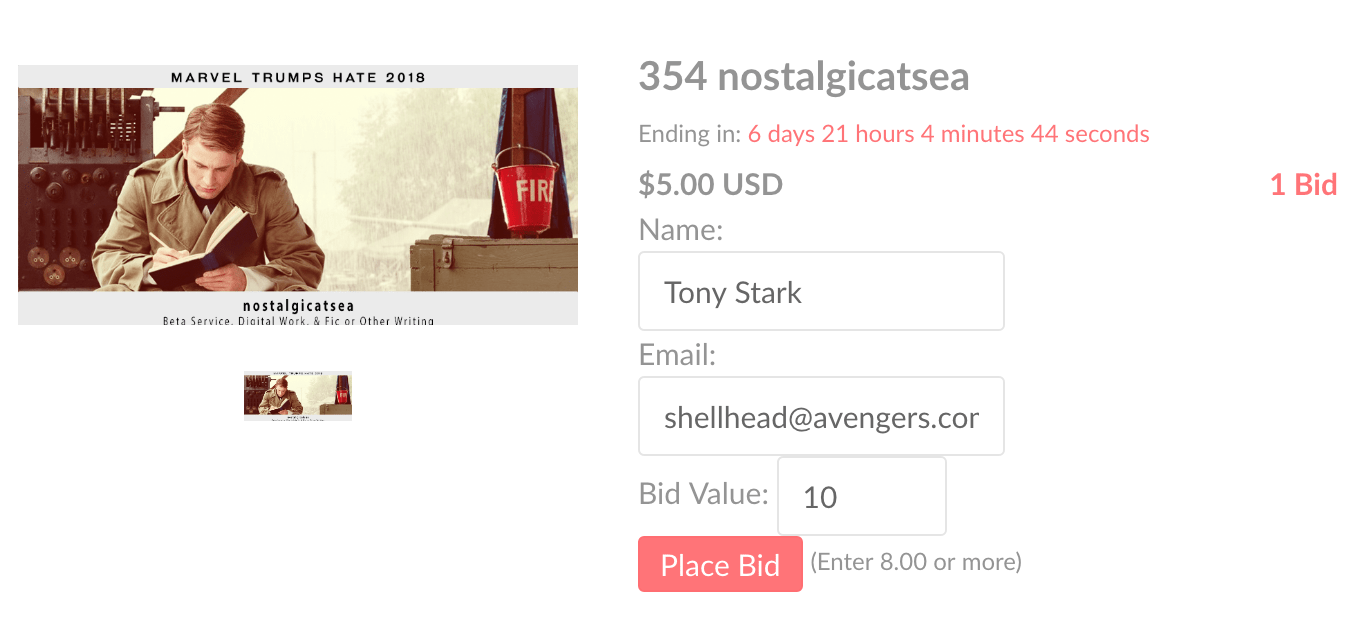 For legal reasons, auction winners must be over 18 to request explicit works, and creators can't offer explicit works to underage winners.
Please refrain from placing bids in incognito mode or bidding on two different devices (i.e., computer and phone). If you've already done so and you received a "User already registered with this email. Please login or try another email" error, refer to this post for instructions.

If you click on the "Description" tab, you'll get a comprehensive overview of the fanwork you are bidding on. If you click on the "Total bids placed" tab, you'll be able to see previous bids that were placed on the fanwork as well the bid amounts and when they were placed. Other people will be able to see your username if you have placed a bid, but your email address will remain private, don't worry. You can also find the total number of bids in the top right hand corner in orange.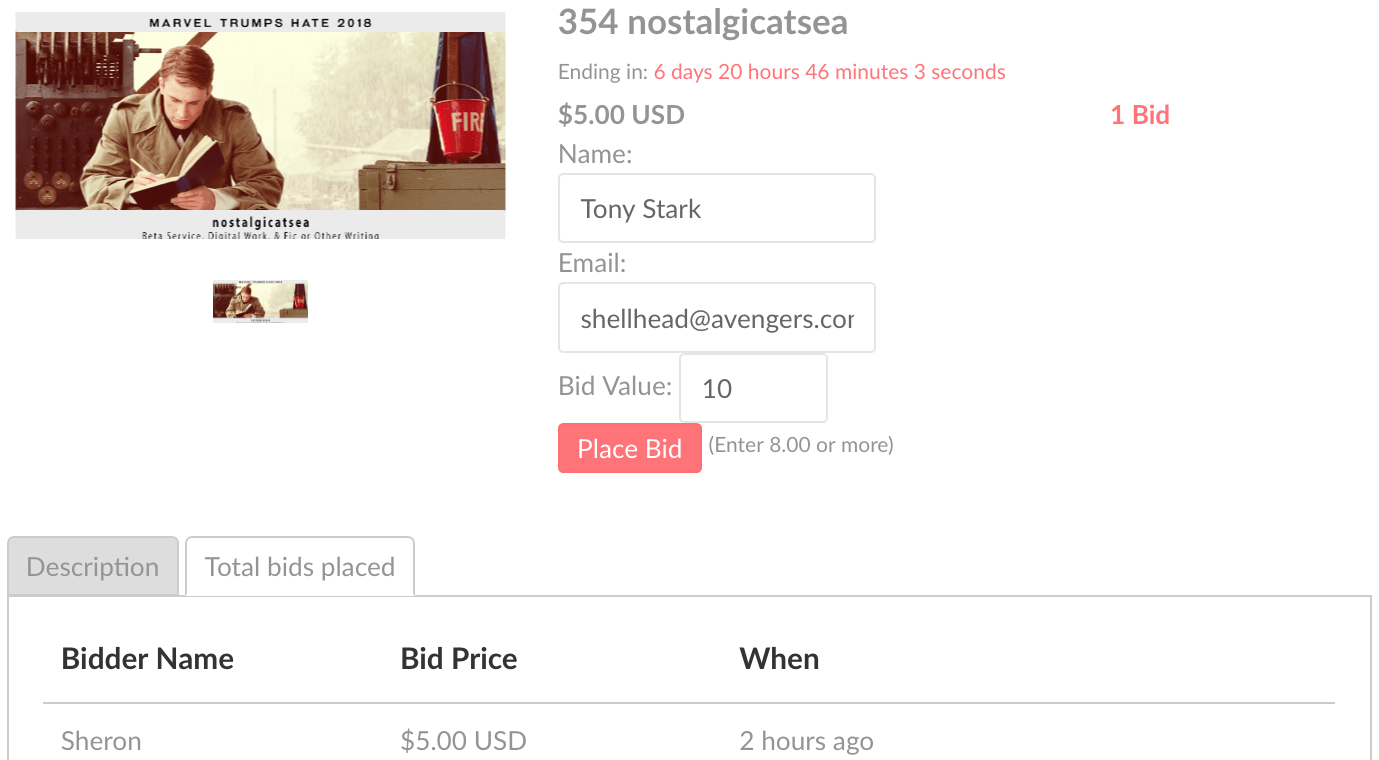 Once you've successfully placed your bid, the following will show on your screen, and you'll receive a

confirmation email

at the email address you provided with the subject title:

[Marvel Trumps Hate] You recently placed a bid on the product – [auction title]

.

Please double check your spam folder if you don't see it in your inbox. If you don't receive an email, it may be that our email system is backlogged due to the number of bids. You can check the "Total bids placed" tab to see if your bid went through.


If you're outbid by someone else on an auction, you'll receive an

outbid notification email

at the same email address with the subject title:

[Marvel Trumps Hate] You have been outbid on the product – [auction title]. There will be a link to the auction in the email, so you can bid again and keep trying your hand at winning the auction! Again, if you don't receive an email, please check the "Total bids placed" tab on the auction you placed a bid on for now.


If the bidding gets too high and you decide to step back, feel free to browse other auctions as we have an amazing

list of creators

on offer! 

The

golden needle tag

on our Tumblr can be a helpful tool for you when searching for auctions. We're using the tag to highlight auctions that are less active but just as wonderful and deserving of bids. We will start using the golden needle tag after the first few days of auction week and will make an announcement post when we do.

Feel free to form a

group bid

! Group bids are accepted if you and a friend (or a group) want to combine efforts and bid as a collective for an auction. One representative per group must be responsible for coordinating the bid and submitting all the donation receipts by 11:59 PM ET on November 5 (

what time is that for me?

). If you'd like to announce or discuss your group bids you can do so

here

.
We'll post more information soon on what to do once Auction Week closes and you've won an auction. Thank you for your generosity, and we hope you all have a wonderful time bidding on our lovely creators!